In his The Foundations of Internet Marketing Success, Matt Olson sets himself the task to explain these foundations on a mere 28 pages. This is a tall order. It gets even taller with Matt's bold claim that
"The formula for IM success has its foundation in "doing and thinking in a certain way". The following pages contain the blueprint."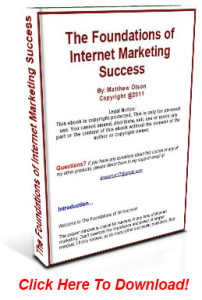 And:
"These are universal principles of success and they work 100% of the time."
As if this wasn't bold and daring enough he ups the ante by a few degrees with this:
"I want you to know that this report has nothing to do with doing any new age mental "stunts" in the hopes that money will magically appear in your bank account. On the contrary, the following information is practical, down to earth advice on how to change your thinking so you perform in a more effective, efficient manner."
Now the question is: Does he deliver?

He does.
Matt Olson has been a full time Internet Marketer for a number of years and generates a significant income. Most importantly, he has earns his money not by teaching but by Internet marketing. This means that he knows what he is talking about when he occasionally puts out a Internet Marketing course. He teaches what he does.
He does the same with his Foundations of Internet Marketing Success. He teaches what he does and what helped him be successful.
No is no miracle cure, no "Secret" although at times I wondered when "The Secret" would pop out of the hat. In the end, it didn't. Good. Instead, Matt Olson made good on his promise and produced solid guidelines to follow and illustrated them with his own experience that took him from Internet newbie to successful Internet Marketer.
The Upside of his Foundations: it was written by a successful Internet Marketer for Internet Marketers. He knows what he is talking about, and he focuses on the right methods that will lead to success. It was written by a practitioner in both camps, Internet Marketing and Mindset for Success.
The Downside of his Foundations: like with every other course, the author cannot do it for us. We have to do it ourselves. We are the downside, pushed by our laziness, complacency, procrastination.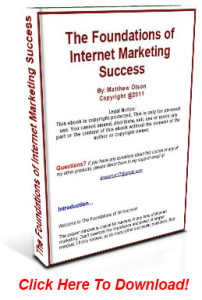 Matt Olson shows us clearly what to do and, the framework of 28 pages permitting, how to do it. There is also a bibliography for those who want to dig deeper. The rest is entirely up to us.
As with many recent things, this ebook arrived just at the right moment for me, reminding me again of what it takes to get where I will get. There can never be enough reminders. I will do what I recommend that everyone should do:
Get it, read it and follow exactly what he tells us to do. And at $7, frankly, it's a steal.
See you at the top.