Don't you just hate them?
I know I do.
I'm talking about specimen of this: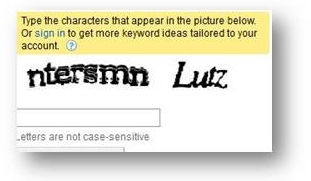 Or even worse, this: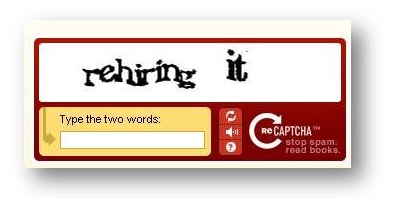 Captchas. Beloved of the Google Keyword Tool and other online behemoths forcing you to try and try again, refresh repeatedly, then guess and eventually digress into foul language.
Why do they use them?

To drive us mad? Probably, but also to stop spammers and their tame robots from flooding website with machine generated, incessant requests, messages and spurious backlinks leading pretty frequently to quite nasty things that lurk behind those links.
These giants of the Internet generally can afford to use them because we have to use their sites and services whether we like it or not.
Most annoyingly, in spite of all the antipathy they generate, you see them in use at times on sites that are much smaller. There, they hang out at the comment area where blog followers gather.
Some people compare them to a bad stench that drives fans and visitors away because the prospect of battling with one of these captchas is something pretty much everyone can do without.
I fully sympathise. I don't really want to have to fight one of those after having spent time writing my comment to a blog post. My time is precious and so is my energy. Why should I unless I absolutely have to?
Ah, the sweet sound of Radio WIIFM.
Ahem. Now I have to confess. Seriously.
Yesterday, I installed a captcha on my new site. Yes. It's here (click if you don't believe me):
May I claim mitigating circumstances, please?
Firstly, I did not install one of those hate, frustration and apoplexy inducing monsters. Mine comes from a more civilised lineage: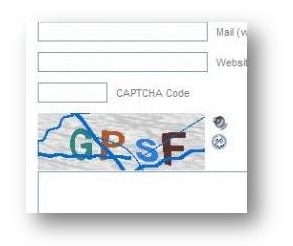 I, for one, don't mind these.
Why did I do such a thing, though? Do I really want to drive off visitors to my site by making them shudder at the mere thought of commenting on posts and articles?
Of course, not. That is why I chose this rather genteel looking bouncer. Because a bouncer it is, and it will hopefully deter any troublesome spambot.
There is a reason for this madness. Hence my plea for mitigation.
You see, my very first website had a completely unprotected blog. I didn't know from Adam what this suspicious looking Akismet thingy was that hovered in the plugin den, let alone allow myself to use it. Not a clever move as I was about to find out.
I wrote a blog post about how to capture still images from videos. At the time this was a not altogether obvious procedure.
As a consequence of the chosen topic, my post received a large number of visits from Russian ladies who couldn't wait to make my acquaintance. About 300 visits … per day.
As I didn't know how to deal with this attention seeking behaviour intelligently, and as I had no spam protection, I opted for radical surgery. I pulled the post.
Today, of course, me and my now great friend Akismet know how to deal with such overwhelming attention. Unfortunately, though, my new friend is at times somewhat overzealous and occasionally relegates a genuine post to the slammer. Which means that I then have to trawl through dozens if not hundreds of spam messages to rescue the serious comments from their miserable existence in the spam folder.
To give you a live example: A couple of minutes ago a located a trackback to this blog from Ryan Deiss' Digitalmarketerlab. It was one in only 55 spam messages, so easily spotted. But…
Add to this that my new site is about video creation, and you can easily imagine that it has the potential of attracting hundreds of Russian and other ladies every day. You bet that I won't trawl through these hordes.
That's why I decided to lend a helping hand to trusted old Akismet by recruiting the rather friendly looking Si-Captcha-for-Wordpress as a doorman.
It comes recommended by well over a million users, so cannot be all bad. Installation was a cinch. We'll see how it will perform its duties.
So far, I resisted installing it here. What do you think, should I install it here, too? Leave a comment below and let's exchange views.