Do you have a QR code for your website?
I never thought about getting one until yesterday when the tree surgeon arrived to check out the tree that threatens to lift the house.
When he parked his car in my drive I couldn't believe it! A PR savvy tree care company displaying their QR Code not just on his car but, so he told me, on all their vehicles (rear and either side)!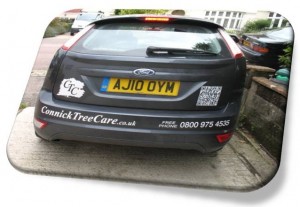 That's it. I had to get mine. Here it is:

I'm not quite sure how useful it is to publish my QR code on my blog, but I could certainly stick it on my business card.
If you cannot wait to get your QR code, here are two websites that generate them for free:
http://qrcode.kaywa.com/
http://quikqr.com/
The second one also has a review of QR reader apps with download links for your smartphone.
What are you waiting for? Get yourself QR Coded!